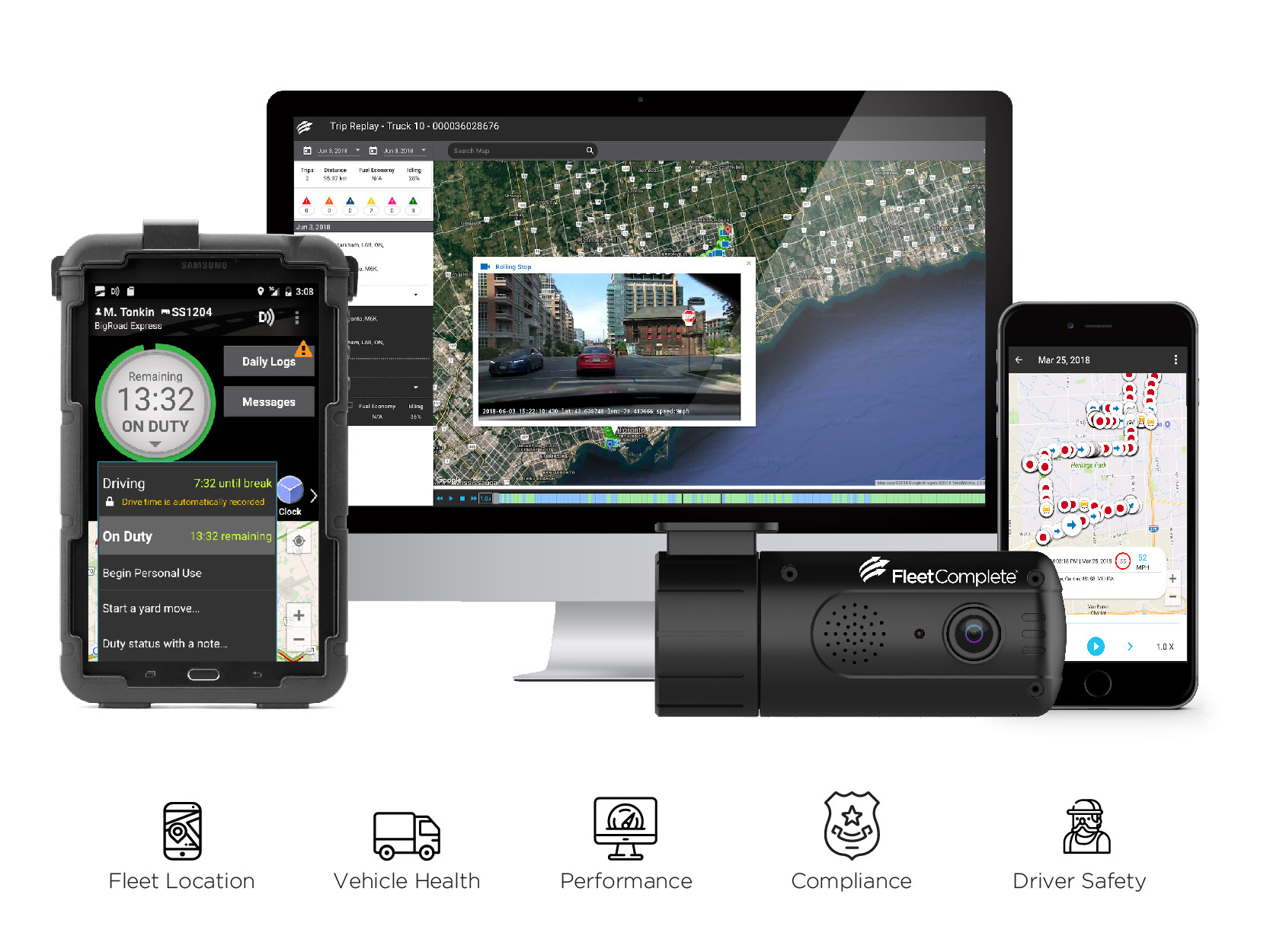 Track vehicle location. Optimize activity in the field. Manage engine health. Automate driver coaching.
All from one platform.
Bundle includes:
Fleet Tracker MGS800 with ECM on LTE network
Vision by Fleet Complete
BigRoad ELD
Fill out the form and our expert consultants will connect with you as soon as possible.
You can also reach us at sales@bigroad.com or call us at 1-888-305-8777 ext 2.
More than just dots on the map
An advanced GPS fleet tracking solution with LTE that provides visibility and insight over your assets and workforce in near real-time.
Features and benefits:
› Captures time-stamped vehicle location and improves fleet insight › Monitors and analyzes driver behaviour in fleet performance dashboards
› Helps evaluate business inefficiencies and identify opportunity to lower fleet costs
Proactive vehicle health management
The Fleet Tracker MGS800 device connects to vehicle's Engine Control Module (ECM) and captures accurate vehicle data to help streamline timely maintenance, minimize downtime associated with breakdowns and lower service expenses.
Engine data information and alerts:
› Engine fault codes and temperature/oil/coolant status
› Brake pedal position and application pressure, parking brake switch › True odometer, RPM, VIN and more
Automate driver coaching with video event tracking
Suited for business fleets of any size, this reliable video event recording solution includes near real-time analytics and in-cab voice assistance to improve your fleet safety and driver coaching.
Features and benefits:
› Only records once an infraction is detected › Sounds in-cab live voice notifications of detected violations
› Provides in-app trip summary dashboard for driver
› Provides video footage of infractions in cloud-based manager app
Electronic Logging Device (ELD)
Our DashLink device is a robust and easy-to-use ELD compliance solution for engine-connected logs. Connected Compliance BigRoad's DashLink is the easiest and most affordable way to create compliant engine-connected logs.
› Create accurate and error-free driver logs
› Interchangable between vehicles and drivers
› Zero upfront hardware cost
› Prevent HOS violations and report errors
› Create inspection ready logs
› Get paper-free digital reports
› Pass-through connections available for multiple ECM and diagnostic port types
› Easily switch between ELD equipped and non-ELD equipped vehicles